Marine industry
Fresh water dock manufacturers have introduced Corbitt to the Marine Industry. We are currently pursuing exposure to the needs of this industry.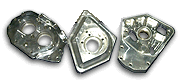 motorcycle parts
Many component parts in the motorcycle industry are cast aluminum and machined billets. Conversions are taking place of steel weldments and brackets. We see a trend of castings and machined billets for many welded parts, whereas conversion maybe considered. We also offer reverse engineering through our manufacturing engineering group.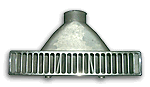 Manifolds
High horsepower engines require air coolers for turbochargers. Corbitt is entering this market with enough experience to overcome many hurdles. Through the experience of our manufacturing engineering group we will address your concerns.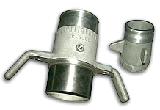 bulk transportation
Many fittings, weldments and other parts in bulk transportation have been converted from Iron to Aluminum because of weight vs. strength ratios. Corbitt has addressed these issues for many years and is considered a leader in the marketplace.